The Grand Canyon State is about to be full of options for legal sports betting. Multiple Arizona sportsbooks are now accepting customer account registrations and are set to start taking bets on Thursday, Sept. 9. In order to get maximum enjoyment, it's important for bettors to understand the Arizona sports betting rules.
The rules that apply to bettors range from pretty basic to more nuanced depending on individual situations. None of them are that complicated, however. It's merely a matter of understanding what's important in a regulated system.
RANK
OPERATOR
BONUS
INFO
ACTION
The basic Arizona sports betting rules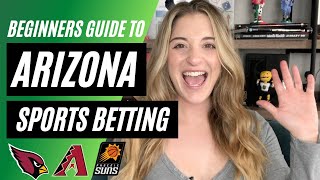 A big part of responsible gambling is ensuring maximum protection for vulnerable individuals. This is why AZ has an age minimum and restrictions around those who deal with compulsive gambling disorders. In order to register for an account with an AZ sportsbook, you need to be at least 21 years of age.
Additionally, if you've voluntarily excluded yourself from gambling in AZ, that program includes sports betting. Not only will regulated sports betting apps in AZ refuse any attempt to create an account but by law they can't advertise to you, either.
Another important part of both federal and state laws in this regard is your location. These laws govern where you can – and can't – legally place wagers on sporting events. To be clear, these provisions only apply when you are actually putting your wagers down.
You're free to register an account, make a deposit, withdraw winnings, browse the lines, etc., from anywhere. However, when it comes to submitting your bet slip on the app, you must be somewhere within the borders of AZ. Also, to avoid money laundering schemes, sportsbooks restrict each bettor to just one account.
Another rule governs who might be ineligible to wager on certain sporting events. These can be very specific circumstances but it's still crucial to note.
Why some Arizonians might be ineligible to place certain wagers
Standard practice and the law in AZ both make certain people ineligible to place bets in certain circumstances. The majority of the reason for this is preventing people with insider information of some kind from taking advantage of that situation.
These rules primarily apply to people with stakes in gambling companies and who are employed by sports teams. People who own stakes in sports teams and who work for sportsbooks could also face these restrictions in a limited fashion.
For example, if you work for the Arizona Cardinals, you're probably best off avoiding betting on at least Cardinals games if not the NFL altogether. Even the perception that you used your position to gain non-public intelligence on games could prompt an investigation.
That doesn't mean you can't bet on sports at all. It just means as long as you hold that job, it's advisable for you to not bet on the NFL. The same thing applies if you own even just part of a gambling company that offers sports betting, or work in the trading department for such a company.
Just as much as it's important to protect the integrity of the games, the same goes for the betting markets on those games. If you're in any of these roles, it's best to err on the side of caution. A catchy phrase that's relevant here is "if in doubt, don't fill the ticket out."
Most AZ residents and visitors will have the full menu of allowable events open for consideration. There are some exemptions to that norm that apply to all bettors regardless of their investments and professions, though.
What bets are illegal in AZ?
In AZ, you can't bet on events that are primarily engaged in by minors like high school sports. Additionally, you can't legally wager on injuries or penalties and there are specific restrictions just for college sports.
In-game or live wagering for college sporting events is illegal in AZ. The same goes for prop bets, even those placed pre-game, that are based on individual athletes' performances. For example, you won't be able to wager on how many yards Arizona State quarterback Jayden Daniels will throw for in a game.
Pre-game props on college teams are acceptable. An AZ sportsbook can offer a market on how many points the Sun Devils will score in the first quarter before the game starts, for instance. It just has to stop accepting wagers on those things when the game kicks off.
With this Arizona sports betting rules knowledge in hand, you're ready to get in on the excitement with confidence. As long as you play according to the rules and do so responsibly, it should be fun.