We are heading east to … PGA West … in Southern California! Go figure. 2022 American Express odds will be released after the conclusion of the Sony Open, and this is a place I have some familiarity.
I have been to PGA West once before to play the Mountain Course, which happens to be the only other course at La Quinta not in rotation this week. In any case, it's a really cool place to play with a beautiful backdrop of Coachella Valley persistent throughout, and we get to see not one, but three different courses in this week's unique Pro-Am set up. Joshua Tree is down the road, and as much as I'd love to go on my own vision quest to land on this week's winner, I'll settle for another week of modeling and grinding course research instead.
When we get to these "gimmicky" events with limited SG data, it becomes a bit of a "fight or flight" week from a research standpoint. You can embrace the randomness and run some simplified, overarching models for commonality across the three courses in play, or you can go crazy and over-analyze the minutiae of advantages in the order of your rotation draw or Pro-Am performance history. This article will fall somewhere in-between those two approaches. We'll go over the bets, odds and what to look for when handicapping 2022 American Express odds.
Last week's Sony Open was similar in length but much different in the profile of game it demanded. At PGA West, we see some of the least penal rough on TOUR, meaning less of an emphasis on driving accuracy this week, while still taking away the advantage of distance off the tee. Instead, like many other birdiefests we've gotten accustomed to in the Fall Swing, this should come down to a bonafide putting contest. Over the past decade, Adam Long, Andrew Landry, Brian Gay, Bill Haas, and Mark Wilson have won here, so we should be prepared to get weird. When in Coachella, right?
2022 American Express Favorites
To find the full 2022 American Express odds board to compare outrights, top-five and top-10 odds across legal U.S. online sportsbooks, scroll to the bottom of the article.
THE FIELD AT A GLANCE
Not quite as deep as last week's Sony Open field, but The American Express makes up for it with a top-heavy list of names, highlighted by World No. 1 Jon Rahm and 2021 Player of the Year Patrick Cantlay. Cantlay was the favorite entering this event last year and shot a Sunday Stadium Course record 61 to finish runner up.
There are eight OWGR top-30 players in the field this week. Rahm and Cantlay will open as the two favorites, followed by Scottie Scheffler, Matthew Wolff, Sungjae Im, Tony Finau, Abraham Ancer, and Patrick Reed. A few other OWGR top-50 names in the field this week include Phil Mickelson, Will Zalatoris, Corey Conners, Justin Rose, Adam Scott, and Christiaan Bezhuidenhout.
There is a long list of previous American Express winners in the field this week, including defending champion Si Woo Kim. That list of former winners also includes Andrew Landry, Adam Long, Jon Rahm, Hudson Swafford, Jason Dufner, Bill Haas, Patrick Reed, Brian Gay, Mark Wilson, Jhonattan Vegas, Bill Haas, Pat Perez, Charley Hoffman, and Phil Mickelson.
INTRODUCTION TO PGA WEST & THE PRO-AM FORMAT
For the first time post-COVID, we are back to incorporating a Pro-Am structure throughout the first three days of this tournament. Each pro will be paired up with an amateur each of the first three days, so each foursome will have two pros and two amateurs. In the three-course rotation format, that means about 50 pros will be playing the Stadium Course, La Quinta CC, and Nicklaus Tournament Course each day, and rotating Thursday through Saturday before the 70-man, 54-hole cut. All players through the cut will play the Stadium Course for a second time on Sunday.
This is not the only event on TOUR that features a Pro-Am & three-course rotation, as we'll see this structure again in a couple weeks at the AT&T Pebble Beach Pro-Am. Phil Mickelson has multiple wins at both this event and the AT&T Pro-Am. Does that make him a Pro-Am specialist, or is he just a Hall of Fame golfer who's won a lot? You be the judge, but I would posit to say there is some merit to thinking that certain players will be more or less comfortable in this format playing alongside amateurs than in a standard PGA TOUR event.
Last year we saw a departure from the three course, Pro-Am structure. The amateurs were removed due to COVID protocols, as was the La Quinta CC course from rotation. With that, we saw a standard 36-hole cut and three-out-of-four rounds played on the Stadium Course. This year, it may be helpful to look for players who have excelled historically on the Nicklaus Tournament Course and La Quinta CC, as they may be in a buy-low spot from last year, able to create some separation by going low on these two easy courses. The top-five players in SG: TOT at these two courses are Adam Hadwin, Andrew Landry, Talor Gooch, Jon Rahm, and Lucas Glover.
Thankfully, I don't have to write three separate course previews for the three courses in rotation this week, because overall, they mirror the same characteristics. Each of the three courses are Par-72, under 7,200 yards, Bermuda grass throughout, desert-style, and are very easy to score on with ample birdie opportunities throughout, particularly on reachable Par-5s and shorter Par-4s. The Stadium Course, which will be played once in the Thursday-Saturday rotation and again on Sunday for all players through the cut, presents the greatest challenge of the three as a Pete Dye design emulating TPC Sawgrass and challenging water hazards on seven holes. Avoiding the water on the Stadium Course will be key this week, as aside from the water hazards, there will be very little resistance from the three courses.
Truth be told, this is not my favorite tournament to bet. It's been a long-standing event on the PGA TOUR since 1965, originally known as the Bob Hope Classic, attracting A-list celebrities from Frank Sinatra to Bing Crosby, and even hosting former presidents like Dwight Eisenhower, Gerald Ford, and Bill Clinton. Since then, this event has frequently rotated new title sponsors and new names like the Palm Springs Golf Classic, Career Builder Challenge, Humana Challenge, Desert Classic, and now, The American Express. Over time, the event has lost a bit of its luster and no longer attracts the A-List celebrities it used to in the Bob Hope days.
It's also been reduced from a five-day, 90-hole event to a more standard four-day, 72-hole event for everyone's sanity. I don't love it and it seems like a very random set up for a legitimate PGA TOUR event to enlist, but alas, here we are. On a positive note, the new ESPN+ deal promises us full broadcast access across all three courses for the first time this year, so we will actually have the benefit of seeing how La Quinta CC and the Nicklaus Tournament Course play, even if without the aid of Strokes Gained data to track along.
Let's dive into the stats and storylines that matter most in 2022 American Express odds.
PGA WEST COURSE SPECS
Yards: 7,140 (SC), 7,060 (LQCC), 7,181 (NTC)
Par (all): 72 (4x 3s / 10x 4s / 4x 5s)
Greens (All): Bermuda
Architect: Pete Dye (SC), Jack Nicklaus (NTC), Lawrence Hughes (LQCC)
Historical Cut Line: -9 (54-hole cut)
Median 4-round Score: -10 ('21), -13 ('20), -14 ('19), -12 ('18), -9 ('17)
Comp Courses: TPC Summerlin, TPC Scottsdale, TPC Sawgrass, Monterey Peninsula, CC of Jackson, Keene Trace GC, Summit Club
Recent Winners: Si Woo Kim ('21), Andrew Landry ('20), Adam Long ('19), Jon Rahm ('18), Hudson Swafford ('17)
Event History And Course Comps
We'll sub out any "Course History" terminology with "Event History", looking at players who have played best across each of the three courses in rotation, as only half of the four rounds this week will be played at the Stadium Course which holds all the SG data.
At the top of the Event History list, we have Adam Hadwin, who's gained a staggering 12+ SG: TOT in four of his last five appearances. In six career trips to this tournament, Hadwin has posted finishes of T32, T2, T3, 2, T6, T48. Returning to the standard Pro-Am set up across a three course rotation this week, Hadwin will be a popular play looking for a bounce back. The rest of the top 10 in Event History is rounded out by Si Woo Kim, Jon Rahm, Bill Haas, Andrew Landry, Brendan Steele, Charles Howell III, Talor Gooch, Phil Mickelson, and Patrick Cantlay.
Looking at recent finishes, nine players have posted multiple T15 finishes over the last five years: Adam Hadwin, Andrew Landry, Jon Rahm, Abraham Ancer, Brian Harman, Patrick Cantlay, Tony Finau, Sungjae Im, and Michael Thompson.
In terms of comp courses, I'd be hesitant to compare PGA West to many of the other short courses on TOUR like Sedgefield CC, Waialae CC, Sea Island, and Harbour Town, as the courses at PGA West are not positional and do not penalize players for missing the fairway, so long as they avoid the water on the Stadium Course. In that regard, you could look more granularly at players who have gained OTT at courses like TPC Twin Cities, Concession, and PGA National, where water hazards are more prevalent off the tee. The top five players SG: OTT at these courses are Cameron Tringale, Sungjae Im, Adam Hadwin, Rickie Fowler, and Russell Henley.
From fairway to green however, PGA West is nothing like these courses. So in totality, I'm looking at desert courses (TPC Summerlin, TPC Scottsdale, Summit Club) and open, second-shot birdiefests (CC of Jackson, Keene Trace GC, Monterey Peninsula) as comps for this week.
The Stadium Course is an authentic Pete Dye design, made in the image of TPC Sawgrass. So although it plays much easier, it's definitely worth a closer look as well, especially following Si Woo Kim's performance last year. Looking at SG: TOT over the last 36 rounds, the top-10 players in Comp Course History at these tracks are Jon Rahm, Sungjae Im, Patrick Cantlay, Talor Gooch, Will Zalatoris, Tony Finau, and Emiliano Grillo.
KEY STATS TO CONSIDER FOR 2022 AMERICAN EXPRESS ODDS
SG: OTT
SG: APP
Birdies or Better Gained

SG: TOT (<7,200 Yard Courses)

SG: TOT (Easy Scoring Conditions)
SG: P (Bermuda)
Course & Comp Course History
The Strokes Gained data only tells half the story this week, as we're flying blind for two of the four rounds being played at La Quinta CC and Nicklaus Tournament Course. There is plenty of value still in what the Stadium Course numbers are telling us, but given that blind spot in data, I'm leaning on broader, overarching stats this week. These will be relevant across all four rounds.
Given the threat of water hazards both off the tee and on approach at the Stadium Course, I'm weighting Ball Striking (OTT + APP) a bit more heavily this week. Driving Accuracy is effectively irrelevant here with the least penal rough on TOUR, and recent winners like Adam Long, Andrew Landry, Bill Haas, Patrick Reed, Brian Gay, and Mark Wilson should tell us all we need to know about how little Driving Distance matters. The top-10 players in SG: Ball Striking this week are Luke List, Jon Rahm, Sungjae Im, Corey Conners, Hudson Swafford, Patrick Cantlay, Jhonattan Vegas, Russell Henley, Will Zalatoris, and Talor Gooch.
La Quinta CC and the Nicklaus Tournament Course perennially rank in the top three of easiest scoring courses on the PGA TOUR. Rather than over-analyzing hole-by-hole, we can suffice to say the best birdie makers should take advantage of these two courses. The top-10 players in Birdies or Better Gained are Jon Rahm, Sam Ryder, Matthew Wolff, Patrick Cantlay, Cameron Young, Scottie Scheffler, Harold Varner III, Sungjae Im, Danny Lee, and Jhonattan Vegas.
All three courses this week will play as Par-72, under 7,200 yards. So simply put, the top-10 players scoring on short Par-72s are Tony Finau, Patrick Cantlay, Jason Day, Jon Rahm, Nick Taylor, Kevin Streelman, Abraham Ancer, Gary Woodland, Scottie Scheffler, and Sungjae Im.
The ten players best at taking advantage of Easy Scoring Conditions are Patrick Cantlay, Sungjae Im, Jon Rahm, Jhonattan Vegas, Talor Gooch, Troy Merritt, Corey Conners, Brian Stuard, Ben Kohles, and Adam Hadwin.
Refining this down in the simplest of terms, I'm looking for solid ball strikers who putt well on Bermuda greens, and can make a high volume of birdies, particularly on shorter, easier courses. There are eleven players in the field this week who rate out above average in each of those categories: Jon Rahm, Patrick Cantlay, Harold Varner III, Taylor Moore, Adam Schenk, Adam Hadwin, Alex Smalley, Hayden Buckley, Cameron Young, Abraham Ancer, and Charley Hoffman.
Given we only have historical Strokes Gained data from the Stadium Course, which will make up 50% of the rounds played this week, the correlation charts should be taken with a grain of salt. But if you buy into the notion that "If you can play well at the Stadium Course, you should also play well at the two easier courses", then this may still be useful.
At the Stadium Course, we see a notable jump in the importance of Par-3 Scoring, specifically Par-3: 0-150 Yards. Though the stock yardages don't show it, No. 4 & No. 17 can play to <150 yards when tee boxes are moved around, making for viable birdie opportunities in an event where birdies are the prime commodity. The top-10 players in Par-3 Scoring are Jon Rahm, Patrick Rodgers, Harold Varner III, Talor Gooch, Scottie Scheffler, Dylan Wu, Will Zalatoris, Tom Hoge, and Adam Hadwin.
Driving Distance has been more helpful than TOUR average at this event, though not of paramount importance, and the longer-range metrics like Prox 200+ and Par-4: 500+ have had no correlation with success here.
Taking each of the above key categories into account, there are six players who rate out above average in all 10 top categories: Sungjae Im, Will Zalatoris, Cameron Tringale, Harold Varner III, Adam Schenk, and Rory Sabbatini.
PLAYER SPOTLIGHT: MATTHEW WOLFF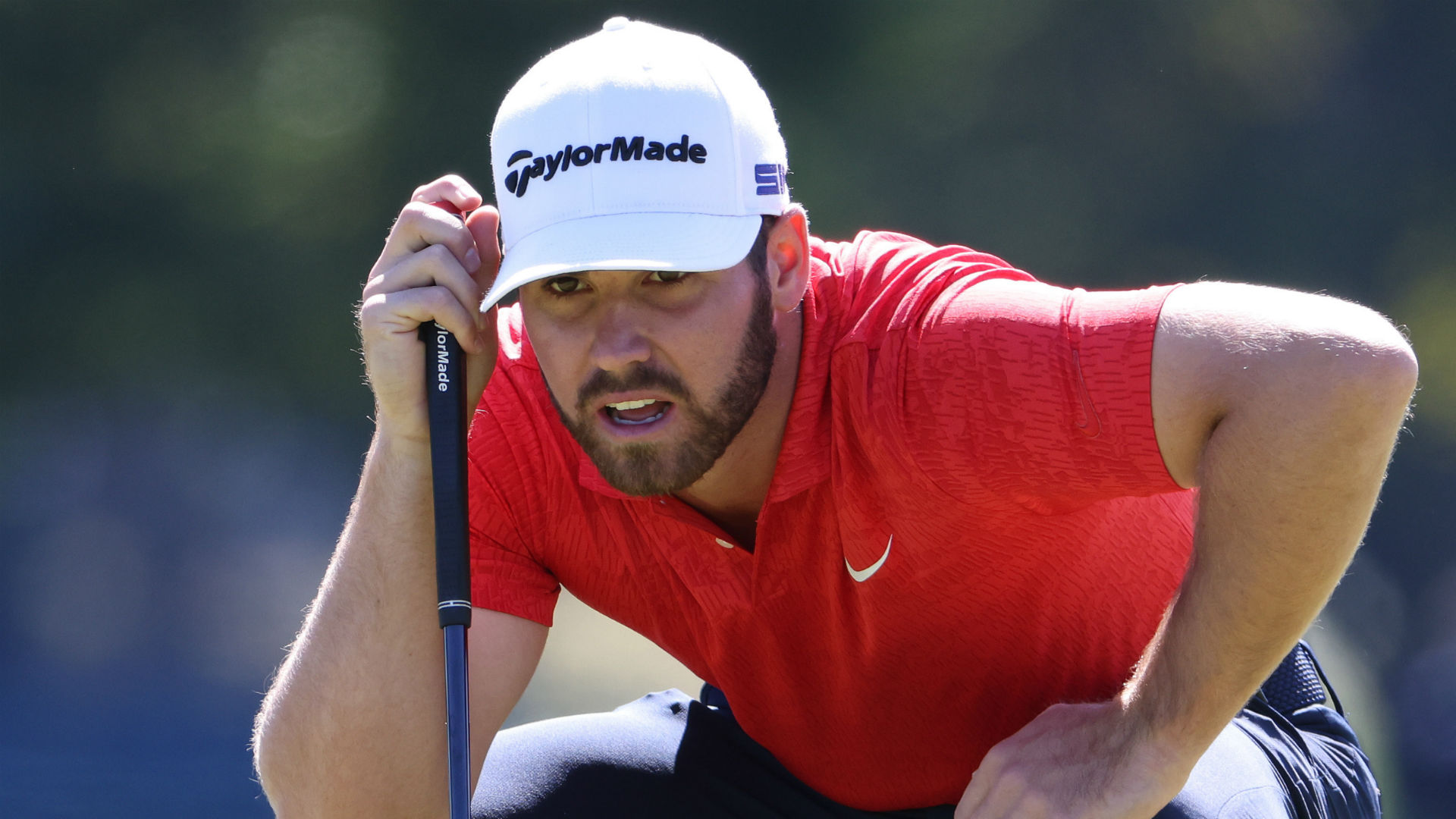 The California kid returns home after an extended two-month layoff to make his 2022 debut. Matthew Wolff had a scorching hot finish to his 2021 year, closing out with four consecutive top-20 finishes, highlighted by a T5 at Mayakoba and T2 at the Shriners.
Wolff will be a top-five favorite in 2022 American Express odds and should open between +2000 and +3000 when odds are released on Monday. Normally it goes without saying that a player with those odds will go on to play well, but Wolff is an enigma and always brings a list of question marks that will make many people apprehensive to play him. I'm not as concerned about those question marks as others will be.
Let's start with the obvious one, the rust. The last time we saw Matthew Wolff was mid-November at the Houston Open where he finished T11. It will be two long months between competitive rounds before he tees it up at The AmEx. But if we know anything about Matthew Wolff at this stage of his career, it's that he's going to take extended breaks and (from what we've seen so far) come back just fine.
Wolff took a four-month leave from the PGA TOUR last February to focus on his mental health, only to return in June for the U.S. Open where he came out firing with a T15 finish. If you can return from a four-month absence and look sharp in a major, I have no concerns about a two-month break leading into this birdiefest.
The other red flag for Wolff this week might be his event history. He's played this event two times and disappointed both times by his standards with a T40 and T61. At both events, he was able to make a high clip of birdies. He just struggled to avoid the water hazards at the Stadium Course. Coming back to the three-course rotation this year, Wolff ranks top five in this field in Birdies or Better Gained, Par-5 Scoring, and Driving Distance. He should feast on the easier courses this year. With the new Stealth driver in his bag, which has gotten early rave reviews, it may even help straighten himself out OTT on the Stadium Course holes that have given him trouble.
Of all the comp courses to PGA West, I like TPC Summerlin the best, which bodes well for Wolff. He has had the most repeatable success at TPC Summerlin, where he's finished T2, T2, and T18 in three career starts. In this birdie fest, I'll side with the acclaimed 2021 AON Risk Reward Challenge champion.
WHAT TO LOOK OUT FOR AT THE 2022 AMERICAN EXPRESS
Last year's American Express was pretty ideal. They scrapped the Pro-Am and reduced to a two-course rotation with standard 36-hole cut, which allowed us to see three-of-four rounds on The Stadium Course, the best and most challenging on property. This also allowed us to see a majority of the shots all week and have nearly a full tournament of SG data to top it all off. And while the set up was improved, the finish was even better with Si Woo Kim hitting a number of clutch shots on Sunday to separate from Tony Finau and Max Homa and just barely edge out Patrick Cantlay and his course record 61 to win by one stroke.
Without a ton of in-tournament Strokes Gained stats to reference, I'll be filling out a full card once again this week. Given the random crop of recent winners, this does not have the look or feel of a tournament you have to pay up for a top favorite on, so I'll once again be looking to pepper the +5000 to +8000 range this week.
With all the course-fit profiles in mind, I'm leaning early towards the below player pool. It's broken out by projected pricing/odds tier.
Final Thoughts on 2022 American Express Odds
For my model in Fantasy National this week, I'm prioritizing SG: APP, BoB Gained, SG: TOT (Easy Scoring Conditions), and SG: TOT (<7,200 Yard Courses), followed by a balanced mix of Event History, Comp Courses History, SG: OTT, and SG: P (Bermuda).
2018 champion Jon Rahm is in the field this week, so naturally back in the No. 1 spot in my model and atop 2022 American Express odds. He ranks top-10 in every single stat category with the exception of SG: P (Bermuda). After Rahm, my model's top 10 is rounded out by Patrick Cantlay, Sungjae Im, Tony Finau, Jhonattan Vegas, Scottie Scheffler, Talor Gooch, Adam Hadwin, Abraham Ancer, and Hayden Buckley.
I'll be keeping a close eye on where the odds open at the top of the board this week. With Rahm and Cantlay in the field and seeming to have picked up where they left off the 2021 season last we saw them, they should open as top-tier favorites. I'll be taking a pass on them this week and will look to start my card around 30-1. Sungjae Im, Scottie Scheffler, Tony Finau, Matthew Wolff, and Will Zalatoris are names I'll be looking to start with, depending on who opens with the most value, but will have to check back here on Monday when odds are posted.
Thanks for reading, and good luck navigating 2022 American Express odds!
2022 American Express Odds Board