[toc]The International e-Sports Federation (IeSF), which was founded in South Korea in 2008, has announced an "Exclusive Strategic Partnership" with Chinese online retailing giant Alibaba.
The IeSF is a governing body for esports with 47 countries signed-up as members. Alibaba is one of the world's largest companies with a market value of over $207 billion.
The partnership has three goals:
To establish a tournament in "which all amateur e-Sports players and professional e-Sports players can participate."
To work together to get esports recognized as sports.
To create unique intellectual property rights.
Alisports is putting over a billion Yuan into the deal
In March the Alibaba Sports Group (Alisports) announced the World Electronic Sports Games (WESG). Min Yunhao, vice president of Alisports explained:
"We set up the WESG like an Olympic competition to help establish the tournament's legitimacy right away and to promote eSports like a sport, not just an entertainment."
The IeSF will fully endorse WESG Game Series initiatives.
[geoip2 region='ROW'][show-table name=betway][/geoip2]
Alisports is putting up $5.5 billion in prize money for the WESG and will invest a billion Yuan ($149 million) in associated development. Alisports plans to develop esports stadiums around China to provide venues for the competitions and a local focus for esports players and fans.
Alisports CEO, Zhang Dazhong said:
"As the most authoritative international organization in e-Sports industry, IeSF has been committed to promoting e-Sports movement into the mainstream, including pushing it into the Olympic Games, which is consistent with our ideal. We are honored to cooperate with IeSF as the exclusive global partners in a long-term. I believe the two sides will jointly promote the development of the global e-Sports industry."
For its part, the IeSF President, Byung Hun Jun commented:
"This partnership is one big step to IeSF. I believe IeSF and Alisports will maximize each other's strength by this partnership. I also believe e-Sports Stadium can be transformed to be a fashion place for Youth. IeSF will make our all effort to be with more e-Sports fans in more countries together with Alisports from now on."
Olympic ambitions are a motivator for Alisports
Earlier this year, the IeSF announced that it was establishing an Athletes Commission as the first step in seeking recognition for esports as a future Olympic event.
Earlier this year, in March, Alisports announced a partnership with International Federation of Poker (IFP) to develop its proprietary game Match Poker.
Match Poker is structured similarly to duplicate bridge in that all the players are dealt the same hands so that there is no luck in the game, and teams win by skill alone.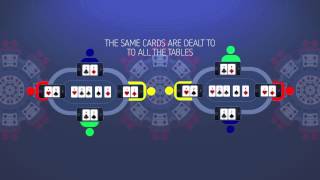 As a preliminary step to getting Match Poker accepted as an Olympic sport, the IFP submitted an application to have the game recognized as a sport at the SportAccord General Assembly in April this year. Approval wasn't granted, but esports may have a better case.
Recognition by SportAccord is seen as an essential precondition for acceptance as an Olympic sport, although a number of its affiliated sports federations, such as the World Darts Federation are recognized but have not been chosen for the Olympic Games.
One weakness in the case for Match Poker is that it does not have a strong global player base. The same cannot be said for esports which is not just global, but popular with a vast audience.
Should either eventually end up on the Olympic schedule, Alisports' potential audience will expand exponentially.
Tencent is dominant in China's esports industry
Alibaba is not going it alone in developing the Chinese esports industry. Tencent has become probably the most dominant esports industry player, both inside China and globally.
Tencent's corporate reach is quite awe inspiring. According to research by esports commentator Manny Anekal, among other esports assets the company owns:
100 percent of Riot Games—owner of League of Legends
84 percent of Supercell—owner of Clash of Clans, Clash Royale
12.5 percent of Blizzard Activision—owner of Call of Duty, Call of Duty Online, Starcraft II, Heroes of the Storm, Hearthstone, Overwatch, Candy Crush
40 percent of Epic Games—owner of Paragon, Unreal Tournament, Fortnite
21.5 percent of GLU Mobile—owner of WeFire, QuizUp
28 percent of CJ Games/Netmarble—owner of Marvel Future Fight
With Alibaba and Tencent, China has a phenomenally powerful corporate position in the esports industry. Seen in this context, Alibaba's investment alongside the IeSF is a natural extension of the confidence Chinese companies have in the future of esports.
Image credit: Pieter Beens / Shutterstock.com