Last night, perfectly timed during the midst of March Madness (and for the very first time, mass adoption of March Madness betting in America), 60 Minutes asked, "Will legalized sports betting curtail corruption or encourage it?"
The feature paints the new American sports betting landscape in broad strokes. The overarching theme (in part because it's March Madness) was, to paraphrase The Simpsons, "Won't somebody think of the children?" Or more specifically, in this case, the college athletes.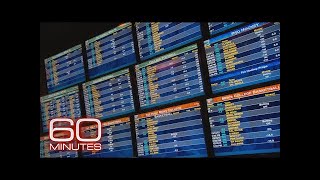 The fix is in
The feature sets an ominous tone at the start by invoking the 100th anniversary of the Chicago Black Sox betting scandal. However, as it relates to potential corruption, most of the focus is (rightfully) around college athletics.
This is something we've previously written about at TheLines: Taking a more measured approach toward college sports.
The moral arbiter of the feature is Mike Hamrick, former UNLV athletic director, who now serves the same role at Marshall University. Marshall is in West Virginia, one of the legal sports betting states. Hamrick's concerns seem mostly about protecting his athletes:
There's people that will do what they need to do to make a buck at the expense of an 18- or 19-year-old kid.
While game fixing isn't out of the question (particularly in a more manageable sport like college basketball, where one player can impact a game more easily than football), a less obvious area for corruption is on injury intel.
Insight into injuries provides unpaid college athletes the ability to give gamblers an edge without putting the athlete in danger of actually fixing a game itself.
Hamrick claims other athletic directors have similar concerns, which makes sense. They should. This is a hard one to control at the college level and not something that European sports can be looked to for a successful template. The best answers may be to limit what college wagering is allowed, or to cross your fingers and hope a scandal doesn't happen early and often.
Reasons for optimism
While 60 Minutes definitely took a darker slant to the piece, there were some positives. It noted that sports betting has undergone a massive shift in perception in the US, from leagues to the public in general. As it noted, pro leagues "transitioned from defense to offense" in terms of sports betting. The MGM signed deals with MLB, NBA, and NHL and Caesars inked one with the NFL.
The show also noted that sports bettors are younger and more affluent than in the past. They're more likely to watch sports broadcasts longer if they have action on it.
One expert, Ryan Rodenberg, a law professor at FSU, predicts, by the end of this year, 15 states will have some form of legal sports betting with another 12 having laws in the process. This would be a substantial expansion of where we are today, covering over half of the country.
As in-play betting popularity increases, so will total wagering activity. As William Hill's Joe Asher noted, 50 percent of all betting in Europe (and specifically, betting on soccer) is live/in-play action.
As usual, leave it to the NBA's Adam Silver to be the shining light of sports betting. Silver says legal betting "dramatically" decreases risk because we access data and technology that helps identify unusual line movement. Basically, moving this into the sunlight decreases risk. Given how the increased media coverage and awareness of sports betting is already a thing, that spotlight will only get brighter.
60 Minutes ignored a Silver staple as well: How sports leagues are pushing "integrity fees" as a means to keep everything legit.
Final takeaways
It would've been surprising had 60 Minutes not done a sports betting feature during March Madness. One one hand, this wasn't so negative that it felt underwritten by Sheldon Adelson, but it was negative enough to cast some aspirations on the industry.
The focus on college sports as being corruptible isn't outlandish. There should be concerns around college basketball for game fixing and college football for injury intelligence. You'd be naive to think otherwise.
However, to ignore that the pro sports leagues and regulated sportsbooks aren't diligently working to ensure the integrity of their competitions does the public a disservice. Again, look at England for guidance and data points. For every Daniel Sturridge potential slip-up or fourth tier soccer league fixing scandal, there are billions in legitimate wagers every year without issue. Making mountains out of molehills may grab a few extra eyeballs for a story, but it doesn't make the story more accurate.
The reality is, sports betting in America is a runaway train now. It's a giant opportunity for the leagues, casinos and local governments. The positives significantly outweigh the negatives. Not recognizing that and getting on board makes you look outdated, which is precisely what a 50-plus-year-old TV news magazine is in 2019.