Each week, TheLines takes a look back at some of the worst sports betting "bad beats" from the weekend of college and pro football. These incredible moments caused a swing in money at sportsbooks, resulting in jubilation — and plenty of pain — for bettors everywhere.
Northern Illinois 30, Buffalo 29
Line: Buffalo -3
It didn't take long for gamblers to experience a bad beat during championship week. The MAC Championship Game kicked things off Friday night and a fourth-quarter comeback by Northern Illinois got the weekend off to a rough start for bettors on Buffalo -3
This one looked like an easy win. Full disclosure: I had Buffalo -3 and was getting bored watching the game. The Bulls were completely dominating after taking a commanding 29-10 lead early in the second half.
The momentum began to shift though when Northern Illinois quarterback Marcus Childers hit D.J. Brown for a 28-yard touchdown to cut Buffalo's lead to 29-17 with 17 seconds remaining in the third quarter. Not the end of the world. Northern Illinois can't stop Buffalo. It's not like the Bulls will suddenly stop scoring, right?
The fourth quarter was all Huskies. Childers found Spencer Tears from 32-yards out to get Northern Illinois within five points. Now it was time for Buffalo bettors to get nervous for the first time all game. The Huskies were one score away from covering.
The Huskies completed the comeback in dramatic fashion when Childers hit Brown again with just 1:09 left on the clock to give Northern Illinois its first lead of the game.
Marcus Childers to D.J. Brown for the lead in the MAC championship game! #NIUvsBUF pic.twitter.com/vEZYjmq9q4

— Sports Daily (@SportsDGI) December 1, 2018
Buffalo had one last drive but it wasn't meant to be for the Bulls backers.  Buffalo's drive stalled at the Northern Illinois' 41-yard line and the Huskies held on to win the MAC Championship in a thrilling comeback…for some.
Buffalo bettors watched the Bulls jump out to a 13-0 lead in the first quarter, hold a 29-10 edge in the third quarter, only to have Northern Illinois score 20 unanswered points in the final 15 minutes to win and cover.
Oklahoma 39, Texas 27
Line: Texas +9
Oklahoma and Texas played a wild shootout earlier this season with the Longhorns winning 48-45. History repeated itself on Saturday in the Big 12 Championship game, only this time it was Oklahoma winning 39-27, and sticking it to Texas +9 bettors in the process.
The last few minutes of this game was really a roller coaster of emotions for gamblers on both sides. Texas had been covering the spread most of the game and entered the fourth quarter tied at 27. Oklahoma took a 30-27 lead and then tacked on a safety with 8:27 remaining to go up 32-27.
Following the safety, Oklahoma went on an 11-play drive that took 6:27 off the clock and sucked the life out of Texas backers. The Sooners converted three third downs on the drive to bleed the clock but if the Longhorns held on a critical 3rd-and-10 from the 18-yard line, Oklahoma would have to settle for a field goal. Texas just couldn't get a stop though. Kyler Murray threw a pinpoint pass to Grant Calcaterra, who made a beautiful one-handed catch for the touchdown.
WHAT. A. CATCH. BY GRANT CALCATERRA.#BoomerSooner | @grcalcaterra pic.twitter.com/2sXT0DFIXJ

— Sooner Gridiron (@soonergridiron) December 1, 2018
Now trailing by 12, Texas bettors needed a touchdown to cover. Then it happened. Lil' Jordan Humphrey returned the ensuing kickoff for a score. Amazing. However, the touchdown got called back because of a holding penalty. There were some questionable calls in this game but this wasn't one of them. It was clearly holding on the return.
Texas bettors weren't dead yet. There was always the backdoor cover. Sam Ehlinger drove the Longhorns down to the Oklahoma 18-yard line, giving Texas one final shot at a touchdown. On the next play, Oklahoma's much-maligned defense shut the back door on Longhorn bettors when Tre Norwood picked off Ehlinger to secure the 39-27 and College Football Playoff berth for the Sooners.
A one-handed catch on third down, a kickoff return for a touchdown that got called back and a late interception in the red zone doomed Texas bettors in the final minutes.
Los Angeles Rams 30, Detroit Lions 16
Line: Lions +10
Remember back in Week 8 when Todd Gurley broke the Internet by taking a knee against the Packers in the final seconds instead of scoring to give the Rams a cover? Well, it almost happened again on Sunday. Luckily for Rams bettors, Gurley mismanaged the clock.
The Rams were 10-point favorites over the Lions, but Los Angeles wasn't sharp coming off its bye. Detroit was covering most of the day until a Gurley touchdown with 6:53 remaining gave the Rams a 23-13 lead. The Lions kicked a field goal with 2:57 left to make it a one-possession game at 23-16.
Los Angeles was content to run out the clock, but Rams bettors got a break when Gurley busted free for an easy touchdown.
Todd Gurley with the Madden move 🎮

📺: FOX #LAvsDET pic.twitter.com/kFmyBpjTpj

— NFL on ESPN (@ESPNNFL) December 2, 2018
No way. Not again. Gurley stopped at the one-yard line instead of scoring for the second time this season. Amazingly, both times it impacted the spread. There was one significant difference though. This time he did it before the two-minute warning and the Lions had timeouts. Unlike the first time when Gurley made the correct decision by falling down, he should have scored to give the Rams a two-touchdown lead.
Everything worked out for Rams bettors. Gurley realized his error on and on the next play, he plunged into the end zone from one-yard out to give Los Angeles a 30-16 lead.
Rams backers weren't out of the woods yet. Matthew Stafford drove the Lions down to the Rams' 14-yard line for a potential backdoor touchdown. However, Stafford was picked off in the end zone with 17 seconds left on the clock, securing the win for the Rams.
Just make a mental note for the future: If you need Todd Gurley to bust a big run to cover a spread, there better be like five minutes left in the game. Anything less and Gurley is stopping short.
Get $20 Of Free Play at DraftKings!
$20

Free Play

On First Deposit

DraftKings Review

MLB, NBA, NFL, NHL
GPP, H2H, Leagues
Deposit: Paypal, CC
Marcus Childers to D.J. Brown for the lead in the MAC championship game! #NIUvsBUF pic.twitter.com/vEZYjmq9q4

— Sports Daily (@SportsDGI) December 1, 2018
Well, this is going to be a strange year.
The Los Angeles Clippers (15-7) are the best team in the Western Conference? And the Houston Rockets, after winning a franchise-record 65 games last season, sit outside the playoff line in the West?
The Boston Celtics are mediocre-at-best? And Kawhi Leonard is an MVP candidate/actually enjoying himself in Toronto?
Don't worry, Tom Smykowski. No need to break out your "Jump to Conclusions" mat. It's still early, so I'm told. Things can turn around.
What does not seem to be changing, however, is the rising popularity of sports betting in New Jersey. Other than a bit of a revenue dip in October (bettors aren't complaining; it was a friendly month for them), overall handle continued to rise, up to an unprecedented $260 million.
Of course, the NFL can take credit for much of that trend. Certainly, though, the NBA has begun carrying its fair share of the load.
With November gone, as are two months of the basketball season. Which means it's time for everyone's favorite game show: Are You Smarter Than A Bookmaker? (Hint: no.)
A quick recap of NJ sports betting
Of the top 10 games most wagered on in New Jersey last month, at least at DraftKings Sportsbook, six involved the Golden State Warriors. Interestingly, though, two of the top three did not.
Actually, DraftKings' top two NJ sports betting games featured the Trail Blazers: at home against the New Orleans Pelicans on Nov. 1, then at the Lakers nearly two weeks later.
Behind Golden State, the most bet-on teams at DraftKings in November included the Philadelphia 76ers, Boston Celtics, Raptors, and, surprisingly, the Brooklyn Nets. Conversely, the Cleveland Cavaliers, Dallas Mavericks and Phoenix Suns saw the least amount of action.
DraftKings was also home to a pair of monster parlays. On Nov. 4, one bettor wagered $10 on a 12-leg NBA/NHL parlay, one that held 896.27/1 odds and paid nearly $9,000. And on Thanksgiving, a $50 bet on a six-leg parlay paid out almost $6,800 thanks, in part, to the New York Knicks taking down the Celtics (a +1000 moneyline) and the Sacramento Kings upending the Utah Jazz (at +330).
Kambi, which powers three of the biggest online sportsbooks in New Jersey, reported an even split between in-game betting and traditional pregame wagering: 50.1 percent to 49.9 percent, respectively. Regarding in-play, one in every 16 wagers addresses the "next field goal" market.
Outside the moneyline, according to Kambi, the most popular pregame markets include player points lines, team spread and points line parlay, and rebounds by players. For player points bets, LeBron James and Kevin Durant see the most action.
At FanDuel Sportsbook, both online and retail, Warriors games featured more than 20,000 wagers last month. Golden State finished November as the top NBA team in generating handle. (Of note: The Warriors' four-game losing streak proved beneficial for FanDuel, as bettors continued betting on Golden State to halt the skid.)
FanDuel also noted that the biggest NBA days for FanDuel are Fridays and Wednesdays, a result of a higher volume of games those days without much football with which to compete.
Interestingly, during last week's Thursday night NFL game between the New Orleans Saints and Dallas Cowboys, many of the patrons in the sportsbook's simulcast lounge watched less of the football game and more of the Golden State-Toronto matchup.
Over/Under Challenge: Eastern Conference
Two months in, clearer pictures begin to emerge on the potential of NBA teams this season. As such, for those who participated in the NBA/MGM $1 million over/under contest, egos begin inflating more or deflate enough to fit the comfort of New England QB Tom Brady.
With help from FiveThirtyEight and its NBA predictions based on Elo ratings, we can examine each team's current record and get a glimpse of their potential futures. Let's begin with the Eastern Conference.
Eastern
Conference
Preseason
Over/Under
Pick
Record*
Pace
*(Through Nov. 30)
Atlanta Hawks
26.5
Under
5-17
22-60
Boston Celtics
58.5
Over
11-10
49-33
Brooklyn Nets
29.5
Over
8-14
32-50
Charlotte Hornets
35.5
Over
11-10
42-40
Chicago Bulls
28.5
Over
5-17
22-60
Cleveland Cavaliers
30.5
Over
4-16
29-53
Detroit Pistons
40.5
Over
11-7
43-39
Indiana Pacers
46.5
Over
13-9
49-33
Miami Heat
41.5
Over
7-13
33-49
Milwaukee Bucks
46.5
Under
15-6
55-27
New York Knicks
31.5
Under
7-16
29-53
Orlando Magic
30.5
Over
10-12
35-47
Philadelphia 76ers
54.5
Under
15-8
51-31
Toronto Raptors
54.5
Under
19-4
59-23
Washington Wizards
44.5
Over
8-13
35-47
A few observations
Boston Celtics: This was supposed to be the year, Boston. You're healthy. You're at full force. You don't have any excuses this year. The World Series parade beer-can-hurling was a celebration. Keep nose-diving and you'll have thousands of this guy to deal with.
Brooklyn Nets: Name the Brooklyn starting five. Go. No? Ok, name three players on the roster. Go. Still nothing? I don't care. Which apparently is the mindset of anyone the Nets have played this year.
Charlotte Hornets: Poor Kemba Walker. He needs to go for 50 a night just to give Charlotte a chance. There's still hope. And if nothing else, they still have the 30th anniversary season to celebrate, replete with nostalgic throwbacks and that DOPE COURT DESIGN.
Cleveland Cavaliers: Fell into the typical Cleveland trap. Thinking a bunch of rag-tag guys could somehow be at least mediocre. Oh, well. When to pitchers and catchers report?
Milwaukee Bucks: How is it the Bucks can get all Hulkamania on the Blazers one night, winning by 43, then turn into first-half Little Giants two nights later and lose to the lowly Suns? Here's hoping that inconsistency becomes more consistent. Or at least that Giannis Antetokounmpo stops being such a damn beast.
Over/Under Challenge: Western Conference
As for the Western Conference:
Western
Conference
Preseason
Over/Under
Pick
Record*
Pace
*(Through Nov. 30)
Dallas Mavericks
35.5
Under
10-9
38-44
Denver Nuggets
46.5
Over
14-7
52-30
Golden State Warriors
64.5
Under
15-8
52-30
Houston Rockets
56.5
Over
9-11
46-36
Los Angeles Clippers
38.5
Over
15-6
52-30
Los Angeles Lakers
49.5
Over
12-9
44-38
Memphis Grizzlies
32.5
Over
12-8
40-42
Minnesota Timberwolves
44.5
Under
11-11
42-40
New Orleans Pelicans
43.5
Over
11-11
43-39
Oklahoma City Thunder
48.5
Under
13-7
51-31
Phoenix Suns
27.5
Under
4-17
19-63
Portland Trail Blazers
42.5
Over
13-8
47-35
Sacramento Kings
26.5
Under
10-11
35-47
San Antonio Spurs
45.5
Under
10-11
37-45
Utah Jazz
48.5
Under
10-12
44-38
A few observations
Golden State Warriors: Clearly it has become clear that Stephen Curry is the most important piece of the Warriors puzzle. He missed all but two-and-a-half games in November. In those 11 full games without the point guard: Golden State went 5-6.
Houston Rockets: Insert party dance gif here followed by a video montage of happy crying moments.
Los Angeles Clippers: Here it is, the most overlooked, most forgotten, most best team in Los Angeles (don't @ me). Sweet Lou Williams is an all-star, or he should be. Tobias Harris is ballin' out. And friggin' Danilo Gallinari is playing like it's 2007.
Minnesota Timberwolves: What is this? Minny trades away the tyrant King George and all of a sudden you remember how to play well? Stop it. Stop this now.
Oklahoma City Thunder: See above. I won't repeat myself. Steven Adams is the real MVP, though.
Who ya got for the end-of-season hardware?
Hot take alert. Pull the fire alarm, get out the fire extinguisher, and get out the milk to help ease the spice. The Warriors are still the heavy favorite for the NBA title, so heavy that not even Tony Perkis stands a chance at reforming them into skinny winners.
Golden State holds -200 and -160 moneylines at DraftKings and FanDuel sportsbooks, respectively. The Celtics (+700/+750) and Raptors (+900/+750) sit as the top contenders from the Eastern Conference.
Interestingly, despite a one-win October schedule and another losing skid to end November, the Rockets, +900 at DraftKings and +1000 at FanDuel Sportsbook, are still considered a top prospect for the NBA title. The teams climbing the ladder include the Bucks (+10,000 preseason at FanDuel, currently +2000) and the Pelicans (+9000 preseason at DraftKings, currently +3500).
To wrap up, consider the early-season MVP race and each player's odds (at FanDuel/DraftKings):
Milwaukee's Giannis Antetokounmpo (+250/+240)
LA Lakers' LeBron James (+300/+460)
Golden State's Stephen Curry (+500/+600)
New Orleans' Anthony Davis (+500/+500)
Toronto's Kawhi Leonard (+700/+750)
Philadelphia's Joel Embiid (+900/+1100)
Golden State's Kevin Durant (+1000/+1500)
Houston's James Harden (+1000/+1500)
Of note: Curry continues to be a top contender for the MVP, despite the fact that he missed 11 of the Warriors' 14 games in November, while Durant, at a 50 percent success rate, carried Golden State through the month.
Where's the respect for Damian Lillard? Dude's ballin' for arguably one of the biggest surprise teams of the early season. No love for the Blazers guard? One of six players in the league averaging 27 points, 6 assists and 5 rebounds? The other five are serious contenders, after all. Lillard, though: +4000 at DraftKings, +6000 at FanDuel.
You know what time it is.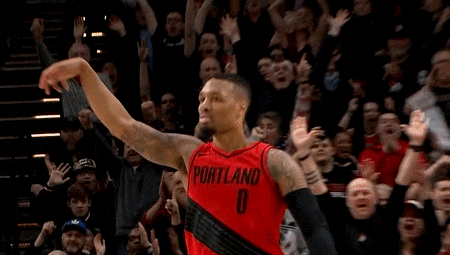 DraftKings got to the top of the DFS mountain by taking some chances and thinking outside the box.
One of the methods by which the industry leader gained notoriety was through its live final events. There have even been full-fledged documentaries memorializing the experience. And while DK wasn't the first to host one, they arguably have gotten to the point where they pull it off better than anyone else.
The company took a similarly aggressive/innovative approach when entering the sports betting space. Chief Revenue Officer and Co-Founder Matt Kalish made no bones about the company's goal to become the "best total value operator in sportsbook" as DK officially kicked off its sports betting product in early August.
Bringing a little DFS flavor to the sports betting space
The subsequent months have arguably been an unqualified success by and large for DraftKings Sportsbook, even as it's still only available in New Jersey. Now, using a little bit of that same ingenuity that they've often applied on the DFS front, the company has found a way to hold a first-of-its-kind live final for sports betting that incorporates players from jurisdictions where the activity isn't yet available.
"At DraftKings, the natural state of things is to look at everything as an opportunity for creativity and disruption," said Kalish. "We looked at the sportsbook space and saw very little in the way of events. With our history running the biggest and best fantasy events every year, it seemed natural to find a way to bring that kind of experience to the sportsbook space."
The first annual DraftKings Sports Betting National Championship unfolds in – where else – Jersey City, New Jersey on the weekend of January 11-13. Qualifiers are currently running in the company's DFS lobby. However, there's also the option of a direct $10,000 buy-in.
Some of the other logistics of the event include:
Each participant begins with a DK-funded $5,000 bankroll.
Players must wager at least $1,000 on Friday and Saturday, and at least $2K on Sunday.
Wagers can be placed on any sport Friday or Saturday. However, all wagers placed Sunday must exclusively involve the two NFL divisional playoff games unfolding that day.
Those requirements must be met in order for participants to retain a spot on the official leaderboard and qualify for the $1,000,000 grand prize, or for the subsequent payouts for lower finishes.
All types of bets are in play, including "straight bets, parlays, fantasy props and more" as per Kalish. However, betting closes upon the kickoff of the second NFL divisional playoff game on Sunday.
The player with the biggest bankroll at the end of the weekend is crowned the grand prize winner. Subsequent qualifying spots are also determined by bankroll size.
The prize pool will be at least $2.5 million, with each direct buy-in above 531 entries increasing the prize pool by $4,700 apiece.
Contest is single entry. The event will have a maximum of 1,000 entrants.
All players take home the sum total of their bankroll at the end of the weekend. Those who have kept their leaderboard eligibility are also awarded any money they've earned through that channel.
Ensuring a level playing field
The Sports Betting National Championship will naturally have quite a few firsts associated with it. One of those is an educational component not found in DK's live DFS events.
Despite their many similarities, sports betting – and how it's laid out in the DK Sportsbook app — is in a completely different stage of familiarity as compared to the company's DFS product for most that will attend the event, considering:
Legal single-game sports betting outside of Nevada is still in its nascent stages.
Many qualifiers for the proceedings will be migrating over from the DFS space. While conventional wisdom would dictate most have placed a sports bet before, there will inevitably be at least a handful that are considerably inexperienced.
The DK Sportsbook app is only fully operational for New Jersey residents at present. It offers a wealth of potential wagering options – including a suite of in-play bets – that even some experienced players may not have extensive experience with. At minimum, many participants will be navigating the platform for the first time upon their arrival at the event.
Accordingly, the company is trying to ensure that no one is at a disadvantage from a knowledge perspective.
"In addition to the abundance of educational features already included in our easy-to-use app that help better acquaint customers with our product, we'll be providing additional learning materials to all competitors," remarked Kalish. "We will also have a fully staffed onsite area at the event for customers with any questions or issues that happen to arise."
"Method to the madness" in contest rules, structure
As Kalish further explains, there's sound reasoning behind each of the contest's rules, even when it's not evident on the surface. For example, the requirement that all final day bets must be exclusively on football stems from the NFL undoubtedly serving as the U.S. market's most frequently and lucratively bet sport.
The fact that the NBA and NHL – the other two major sports in action at that point of the year – purposely keep their Sunday slates modest while pro football's in season also played a role.
And as far as the wagering cut-off time on the contest's final day? There's a strategic element at play there as well.
"Closing betting at the kickoff of the last game will allow players and spectators alike to watch the last few hours of action with a clear picture of who could potentially walk away the champion," Kalish said. "We want the final experience to easily display the necessary turn of events required to crown a winner, adding even more anticipation with each in-game moment."
From the company perspective, that certainly makes sense. DK is naturally hoping this initial version of the Sports Betting National Championship once again positions it as a trailblazer in a new industry, with all the positives that could bring.
The company's prior experience facilitating live, high-stakes sports-based gaming events was critical. Devising a final-day contest structure that engenders the type of electricity that's made DK's DFS live finals an industry standard was high on the priority list, according to Kalish. Especially for an event that DK certainly has a highly bullish long-term view on.
"Based on our experience with our DFS live finals, which we've been hosting since 2014, we think this will lead to a much more focused and exciting conclusion to the event."
Lead image courtesy of DraftKings
Get $20 Of Free Play at DraftKings!
$20

Free Play

On First Deposit

DraftKings Review

MLB, NBA, NFL, NHL
GPP, H2H, Leagues
Deposit: Paypal, CC